Posted by Tweedmans on 31st May 2021
At Tweedmans we sell lots of unusual and unique vintage clothing and men's accessories that make unique Christmas gifts for men. For the man who has everything buying an Xmas gift can be hard, we offer for sale many unique and fun gift ideas to make it easier to find him the perfect gift.
Here is our 8 top unique Xmas gift ideas for men.

1. Silk Scarf .. Classic modern, designer and vintage men's silk scarves and a selection of wool, wool silk blend and evening scarves for sale.
2. Cravat - Vintage and modern silk cravats available.
3. Tweed Bow Tie - Huge selection of genuine Harris Tweed bow ties.
4. Silk Bow Tie - Wide variety of men's pure silk bow ties. Plain, patterned and animal themed.
5. Silk Handkerchief - Lots of superb new silk handkerchiefs at discount prices.
6. Gift Certificate - At Tweedmans we offer gift certificates from £10 up to any value you wish to purchase. This allows the man to choose his own gift from our huge selection of clothing and accessories.
7. Harris Tweed Jacket - Looking to spend a little extra, a tweed jacket is a great investment and with many at just £59 they are a real bargain.
8. Velvet Jacket - Add a little festive elegance to your man's wardrobe with a velvet jacket. These make a dapper alternative to a tuxedo jacket!

Still looking? Take a look at our men's vintage clothing & vintage accessories as we have a huge array of unique and unusual men's vintage clothing offered for sale with new stock added daily!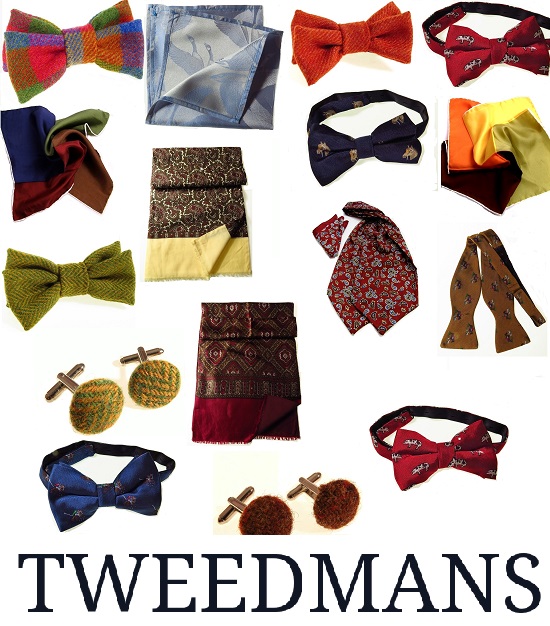 Buy Unique Christmas Gifts For Men Online At Tweedmans - Best UK Vintage, Retro, Designer & Second Hand Clothing Shop For Men.