Posted by Tweedmans on 23rd Jun 2021
Morning dress is the daytime formal dress code for gentlemen to wear at Royal Ascot and consists of a black morning coat, waistcoat and striped morning trousers or you may wear a morning suit, which consists of a grey tailcoat with matching trousers.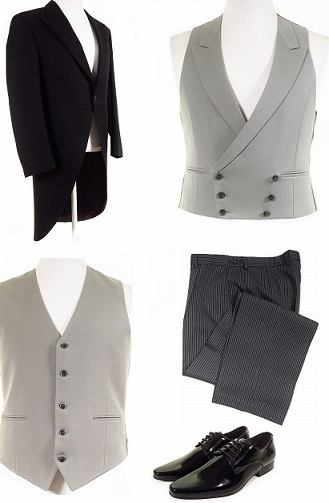 Morning dress code for Royal Ascot: Either black morning coat and striped trousers or matching grey tailcoat & trousers morning suit is the required dress code for the Royal Enclosure at Royal Ascot. We offer both options for sale. Waistcoat & tie must be worn and can be any colour allowing for a more individual look to your Royal Ascot outfit.
Morning dress is traditional attire for men at weddings, formal memorial services, some official functions and formal daytime events in the presence of The Queen such as the Royal Enclosure at Ascot.
We offer an extensive collection of top quality ex-hire morning dress for sale including men's black morning coats / tailcoats, grey morning suits, waistcoats including classic dove grey wool waistcoats, traditional striped trousers, dress shoes and accessories.
As well as traditional Royal Ascot suits we also offer for sale a huge collection of gentlemen's morning suits & wedding suits in a vast array of colours and styles.
Buy Royal Ascot Morning Dress for Men Online At Tweedmans - Best UK Ex-Hire & Second Hand Formal Wear Shop For Men.