Posted by Tweedmans on 22nd Jun 2021
What is the men's dress code for Royal Ascot?
Well gentlemen read our simple sartorial guide to ensure you are dressed correctly at the racecourse and are following the strict dress code set by Royal Ascot.
Once you have read the guide you may wish to browse our online shop as we offer a huge selection of ex-hire formal wear and also lot's of smart suits & accessories.
We offer a huge selection of pristine second hand ex-hire morning wear for Royal Ascot which is perfect for wear for the Royal Enclosure and an abundance of dapper suits and ties that are perfect for wearing if you are attending the Queen Anne Enclosure or Windsor Enclosure.
If you are lucky enough to be attending Royal Ascot then it is important you are dressed in suitable attire and following the dress code set by Royal Ascot. Here is a guide on what to wear and where to wear it.

Royal Ascot dress code for men.
The Royal Ascot men's dress code varies depending on which enclosure you are in, below is a guide on what to wear for each enclosure.
Royal Enclosure: Either black or grey formal morning wear which must include a waistcoat and tie ( no cravats ), black or grey top hat and black shoes.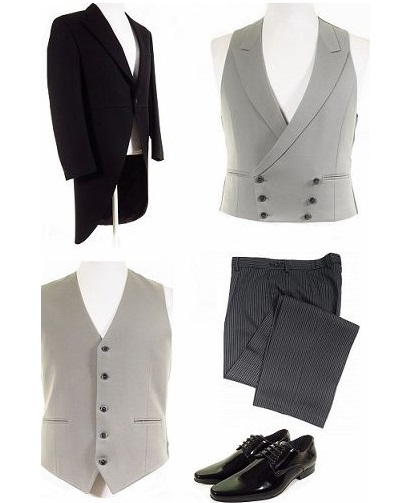 Queen Anne Enclosure ( previously known as the Grandstand Enclosure): Less formal than the Royal Enclosure however men are required to wear a smart suit, shirt and tie.
Windsor Enclosure ( previously known as the Silver Ring): No formal dress code is required for the Windsor Enclosure although smart jacket & trousers is expected as a minimum.
Replica shorts, branded clothing, novelty / fancy dress or promotional clothing is not allowed anywhere on site.
Also to note, although Royal Ascot is famous for the ladies stunning custom hats gentlemen are not permitted to wear customised top hats ( no coloured ribbons etc ) so it's traditional top hats only.