Posted by Tweedmans on 22nd Jun 2021
Just added at Tweedmans is an amazing vintage traditional smoking jacket. Blue silk velvet smoking jacket with full frogging detail, black quilted silk shawl collar and cuffs. London tailored, dated 1965! In absolutely immaculate condition, amazing for a 50 year old vintage smoking jacket and a very rare find indeed.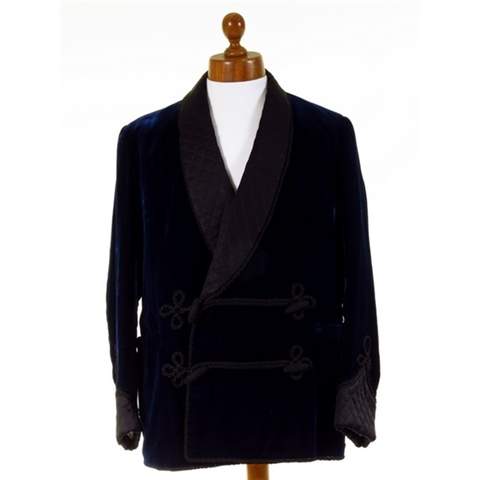 Traditionally the smoking jacket was worn after dining when the gentlemen would then retire to the smoking room. The smoking jacket was intended to absorb the odours of the smoke from the cigars or pipes and to protect the wearer's undergarments from falling ash.

Nowadays the smoking jacket is seen more often as a comfortable jacket to relax in when lounging at home, elegant dinner party attire, as an alternative to a tuxedo at shooting parties or when relaxing with friends. It has become an accepted part of modern day society and is most definitely not just for the Hugh Hefner brigade.

They just don't make them like this anymore, once its gone its gone for good..

You don't need to be a smoker to enjoy this piece of sartorial history, don't miss out!
Buy Men's Vintage Smoking Jacket Online At Tweedmans - Best UK Vintage, Retro, Designer & Second Hand Clothing Shop For Men.