Posted by Tweedmans on 23rd Jun 2021
Are you a modern man who likes the idea of wearing vintage clothing but just don't know how to dress vintage?
Wearing vintage clothing has long been considered cool, trendy and as an added bonus its good for the environment. Less clothing going to landfill and you get to wear something unique and stylish, win win for all!
However the best thing is that you get to wear unique men's vintage clothing, the quality is so much better than most modern clothing and it gives you the ability to dress less like a clone and wear clothing that lets your personality shine.

So, how to dress vintage?
There is no exact answer to this, it's about finding a style that suits you. You could wear a vintage suit, vintage jacket or just a couple of men's vintage accessories mixed with modern high street fashion for a unique and stylish vintage inspired timeless look.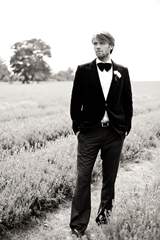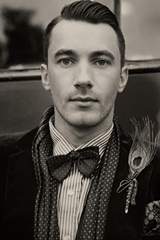 Both of these male models were dressed by Tweedmans for vintage fashion shoots which were featured in well known publications. The first model is dressed head to toe in vintage, in a timeless classic style with a 1920's flavour to his outfit.
The second model nods to the 1970's wearing a 70's vintage velvet blazer, large velvet bow tie and these were then mixed with high street fashion. Both look very stylish if I do say so myself ; )

Many designers are re-creating vintage inspired fashion, like everything else fashion goes full circle.

If it's in the high street shops you will most likely find an original in a vintage shop, the difference being that the quality will most likely be better, you will have a unique one off that nobody else has and you won't have paid a fortune for it.. win win!

My advice on how to wear vintage? If YOU like it... wear it!

With so many tv programmes and films set in the past like the Great Gatsby, Peaky Blinders and Mad Men etc men are becoming more and more confident with vintage fashion and realising that there's a reason why women swoon over the film stars of days gone by... they had so much style!

Whatever you choose it's more about being confident in what you are wearing and knowing that in many cases you have an item of clothing that no one else does... and an air of individuality!